Another day, another omnishambles. The fallout from last week's general election is unfolding like an episode of Borgen and I'm struggling to keep up with the subtitles. After the Tories failed to win its predicted landslide majority, Theresa May is hoping to get into bed with the DUP (eew) to form a minority government. Now, The Queen's Speech (which is basically when the government sets out its legislative programme) has been delayed until the deal is done and dusted. Oh, and the speech is still written on vellum – yes, that's goat's skin – which takes a few days to dry. Because of Tory negotiations with the DUP, it won't be ready in time, hence the hold up.
I'm confused, bemused, and actually a little amused. The news this weekend has had me chuckling away, because it's not funny – it's bloody farcical. I'm no political expert but surely it was a bit half-baked to trigger Article 50 and then call an election?
It's so bad it's almost good – and it is if you consider that Labour has had a surge in popularity and for the first time in ages, the party is putting on a united front. It doesn't excuse the previous backstabbing (I'm looking at you, Eagle and Smith) but Corbyn is now the poster boy for common decency because a. he's a genuine guy who seems to give a damn about other people and b. next to the May and her ilk, anyone's a Messiah. And then, proving that like us, he's an average Joe (or Jeremy) there's this.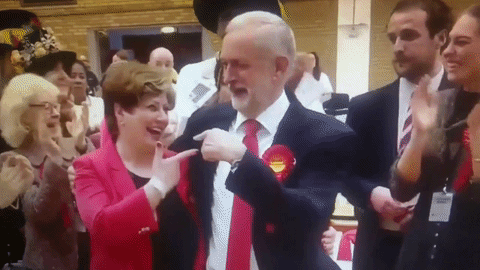 I could watch it for hours.
Apart from Labour, no one seems at all happy, apart from Arlene Foster and former Chancellor George Osborne who was swiftly sacked by May as soon as she became Prime Minister. Now the tables have turned, he can barely contain his glee at her inevitable demise, and like the cat who got the cream, he's described her as a 'dead woman walking'. Meow. That schadenfreude sure does look delicious.
It certainly appears that there's trouble in paradise, and in a leaked WhatsApp conversation, Foreign Secretary Boris Johnson has urged his Tory chums to 'calm down and get behind the prime minister'. Good luck with that one, Bo Jo; the claws are out.
Carry on we must and on that note, I turn to tofu. You might think it's as rubbery as Michael Gove's face (and politics) but it's actually a wonderful addition to any recipe because, like a sponge, it absorbs everything – and yes, that means all the flavour. Recently, I've had a go at baking it and have discovered that it's dead easy and it keeps its shape better. This recipe is tried and tested (unlike whatever the hell is going on at number 10 right now) and I promise you that you'll like it.
Here's what you need to do…
Take a 400g block of firm tofu and use kitchen roll to blot and absorb all its water. Take a heavy wooden chopping board or a hardback book (wrapped in a clean tea towel) and place it on top of the tofu. This will press down on it and absorb excess moisture. Leave for 10-15 minutes then slice into medium-sized strips.
Preheat the oven to 200C (gas mark 6) and in an oven-proof dish, mix a tablespoon each of soy sauce and sesame oil, plus a little grated ginger and the juice of one small lime. Coat both sides of the tofu strips with the mixture and leave to marinate for 10-15 minutes. Sprinkle over some sesame seeds so that both sides of the strips are covered and bake for about 30 minutes, turning every so often.
Serve with stir fried vegetables and noodles or rice.